The CXOWARE team is proud to announce version 1.1 of RiskCalibrator, our enterprise cybersecurity risk analysis application. The latest version adds new reporting abilities, cyber security budget tracking, and many other enhancements to improve measuring your cybersecurity risk.
Enhanced Workflow
The workflow for creating an analysis received a major update in 1.1. Updating the scope, workshop answers and analysis information is now integrated separately from analysis versioning, allowing analysis creation to naturally flow as discoveries are made.
[caption id="attachment_1687" align="alignright" width="300"]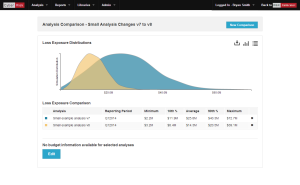 The new Direct Analysis Comparison Report[/caption]
New Reporting
Reporting enhancements include a new direct analysis comparison feature allowing users to see loss exposure overtime as well as track their budget. Additionally, a new asset class report has been added allowing users to see aggregate loss exposure by asset class for threat community, threat type, control deficiency and more. Finally, users can now filter analysis reporting by department.
The 1.1 release also includes many other features such as new loss tables, new workshop questions for event detection, UI improvements and more.
Current RiskCalibrator users already have the latest release and can view the full release in RiskCalibrator.