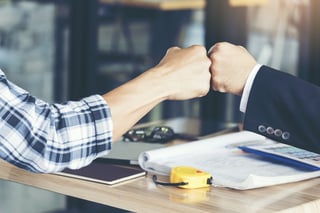 We often hear this: "OK, you've convinced me that quantifying risk into financial terms is a more accurate way to run risk analyses – but it also takes more effort, right?"
Well, yes, compared to plotting risks as points on a heat map, based on educated guesswork (see this blog post on the difference between qualitative and quantitative risk analysis).
And yes, in the sense that doing something well can take more effort than going the other way.
But, in advising clients on how to get the most out of the RiskLens risk quantification platform, we've learned that first, carefully thinking through the risk analysis process, and second, closely defining the risk scenario, are the accelerators you need to get risk quantification done with maximum efficiency.
Try the tips in these guides, based on our experience coaching companies like yours on FAIR risk quantification programs.
1. Detailed Versus High-Level Cyber Risk Analysis: A Balancing Act
A superficial look can be an accurate one and may just be good enough – it all comes down to knowing your audience.
2. How to Get Better Risk Analysis Results by Focusing on Probability vs Possibility
It's a too-common problem: Expanding the scope of an analysis on the theory that more is better. Well, it's not, and can really bog you down. Apply this simple formula to refine your target.
3. Analyst Tips: How to QA Review Your FAIR analysis In Only 5 Minutes
This checklist will save you hours of do-over time.
4. Right-Size Your Cyber Risk Team in 4 Steps
Based on experience with many customers, a veteran of our Professional Services team tells you how to figure the number of hours required to do risk analyses.
5. How to Unscramble Your Risk Register with FAIR [Video]
The answer to the question "How do we take our scrambled up mess of a risk register and turn those items into well-formed risk scenarios for us to quantify and measure?"