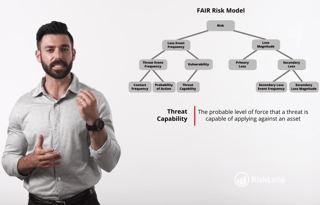 Now you can receive training in FAIR (Factor Analysis of Information Risk) in a self-paced, online, video-based course taught by RiskLens consultants who have extensive experience implementing FAIR programs at companies like yours.
FAIR-trained security and information risk professionals boost their careers by learning the standard model for risk quantification – in other words, expressing risk in financial terms, a key communication tool for presenting risk analysis to C-suite or boardroom audiences.
The new training course teaches FAIR through 21 dynamic videos, starting with the basics of critical thinking about risk, and working through core concepts of risk measurement, with an emphasis on the real-world analytical challenges you're likely to face.
You'll have access to an online training platform with learning assessments and exercises, including detailed case studies for practice.
At the conclusion of your self-paced, three-month course, you'll receive a certificate of completion from RiskLens showing 16 hours of CPE, plus a voucher for the Open FAIR Certification exam, administered by The Open Group and conducted through Pearson VUE at one of their regional testing centers. The Open Group is the international IT consortium that has endorsed the FAIR model as the standard for risk quantification. RiskLens is accredited by The Open Group as an Open FAIR training organization.
RiskLens also offers onsite FAIR training courses for classes of up to 16 participants.
For more information, visit the RiskLens FAIR Training Page.