Cyber Risk in the Headlines at RIMS 2016
In the four years that I have attended the RIMS conference, cyber security risk was barely relevant at the conference three years ago. At this year's conference, it was a major speaking and education agenda item. Chief risk officers, board members – specifically those focused on corporate insurance requirements – and an array of executives servicing the insurance marketplace have driven event organizers to include more cyber risk education sessions.
This year, organizers accommodated the requests of past attendees by including a full conference "cyber track."  Sessions included topics such as:
Cyber Liability and Directors and Officers Liability Insurance
Migrating to the Cloud; Threats and opportunities for risk management
Cyber Risk Analysis Values and Exposures; Financial statement impact
Cutting-Edge Advancements in Insurance Coverage for Cyber Risk
Quantifying Cyber Security Risk in Dollars & Cents; Optimize insurance & mitigation budgets
RGA Reinsurance and RiskLens presented on Cyber Risk Quantification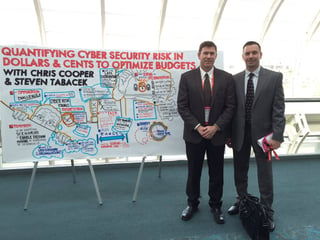 Chris Cooper, VP, Operational Risk Officer at RGA Reinsurance and I led the "Quantifying Cyber Security Risk" track, one of the most highly attended sessions at the 2016 conference.  The attendance included Chief Risk Officers, corporate risk insurance executives, insurance carriers and broker executives.  Chris and I helped audience members understand the challenges of communicating cyber risk to board directors and C-level executives, provided a brief introduction to Factor Analysis of Information Risk (FAIR), and then provided a FAIR analysis use-case example.
You can also review the video of the session at RIMS here. Please note that RIMS requires login and a $25 download fee for the full recording.
More cyber risk and insurance coverage promised at RIMS 2017
As cyber risk management and insurance capabilities grow, the RIMS conference has promised to expand the cyber risk management and insurance related sessions.
Cyber risk insurance is an important component of an overall risk management program. Insurance Policies will not affect the "loss event frequency" side of the FAIR ontology, but if employed correctly can reduce the "loss magnitude" side of the equation.
Get involved with the Insurance Workgroup of the FAIR Institute
In the meanwhile, continue to learn more about cyber risk and risk transfer opportunities from industry experts and your peers, by joining the FAIR Instituteand getting involved with the Insurance workgroup.