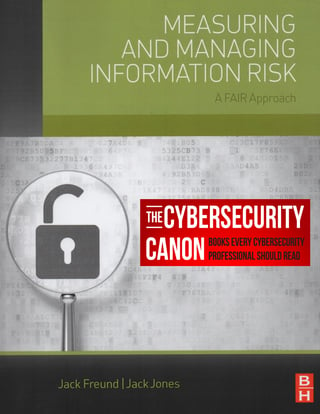 We are happy to announce that Jack Jones' and Jack Freund's book Measuring and Managing Information Risk: A FAIR Approach has been inducted Into the 2016 Cybersecurity Canon at an award ceremony held during the Palo Alto Networks 2016 Ignite Conference.
The goal of the Cybersecurity Canon is to identify a list of must-read books for all cybersecurity practitioners. Books are nominated and voted upon by cyber security professionals for induction. Read the press release here.
RiskLens CEO, Nicola (Nick) Sanna comments: "I am very proud for our co-founder and FAIR author Jack Jones, as his foundational work on developing a standard cyber risk analytics model is being recognized by the wider cybersecurity community."
Sanna continues: "This is also a further validation for RiskLens, as the only cyber risk management software purpose-built on FAIR. Our most recent software platform makes conducting quantifiable risk analyses according to the FAIR risk model a very accessible and scalable exercise compared to the spreadsheet-based approaches of the past. RiskLens users are guaranteed to get results that are 100% FAIR compliant and business-aligned by definition."
You can order a copy of this award-winning book here.
The FAIR Institute, the expert, non-profit organization where cybersecurity professionals meet to learn how to manage cyber risk from the business perspective, is offering FREE copies of the book for certain levels of membership. See if you qualify here.