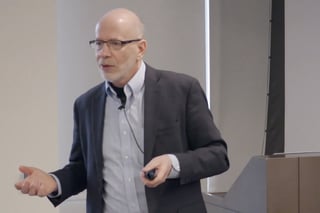 FAIR Institute Chairman Jack Jones speaks at InfoSecWorld in Orlando, Thursday, April 6, on the Risk Management Summit panel.
Jack is the author of Factor Analysis of Information Risk (FAIR), the standard quantification model for cybersecurity and operational risk (read about it in Jack's book: Measuring and Managing Information Risk, A FAIR Approach). Jack is also a co-founder of RiskLens, providing the only enterprise risk quantification application based on FAIR.
Jack will speak on "Revisiting the Groundwork", suggesting a common approach for the industry to define and approach risk.
He will be joined on the panel by
Ron Woerner, Director of CyberSecurity Studies at Bellevue University. Ron has over 20 years of corporate experience in Information Technology and Security, and has worked for HDR, TD Ameritrade, ConAgra Foods, Mutual of Omaha, CSG Systems, and the State of Nebraska. Ron will introduce a simple process for measuring risk that will set up some group exercises to follow.
After the exercises, Jack will return to the podium for a wrap-up session on "Making the Case for Risk Management"—how to clearly communicate risk analysis to management.
The InfoSecWorld Conference and Expo (April 3-5, 2017, at the Omni Orlando) is organized by MIS|TI, the training institute for information security and audit professionals.
Read recent writing by:
Jack Jones: Evolving Cyberrisk Practices to Meet Board-level Reporting Needs
Evan Wheeler: Breaking Risk Paradigms with FAIR
Ron Woerner: Use 3 C's to play to win at Cybersecurity in 2017