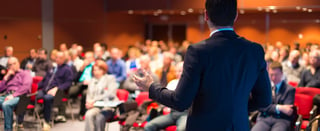 Managing cyber risk is of strategic importance for most organizations. Boards and business executives are now expecting CISOs and risk officers to help manage cybersecurity from the business perspective by adding the economic dimension to their risk assessments.
Engage and Learn from the Experts
Forward-thinking leaders are tapping into the expertise of the FAIR Institute as the professional network to take their cyber risk management practices to the next level:
Whether they are seeking to articulate cyber risk in financial terms.
Prioritize risk mitigations according to business impact.
Enable cost-effective decision making according to the FAIR standard.
There is no better way for you to get involved with the FAIR Institute than to attend the FAIR Conference 2016, Oct. 14, at the Wake Forest University Charlotte Center in Charlotte, NC.
The FAIR Conference is the premier event where this expert community of leaders, innovators and risk practitioners come together to learn and share applied lessons, tactical skills, and proven best practices to manage cybersecurity and technology risk. Don't miss your chance to collaborate and explore what's new, what's possible, and what's next for our industry's most pressing challenges – REGISTER NOW.
Who Should Attend?
CIO, CISOs, CROs, Information Security Officers, Heads of Operational Risk, Information Risk Analysts will find candid presentations that share how FAIR breaks down communication barriers between IT and the business and enables cost-effective decision-making.
Attendees can takeaway the following information:
New knowledge on best practices around FAIR

Strategic learnings from industry leaders

Learn about real-life implementations from FAIR champions

A larger network of like-minded professionals
Jack Jones, RiskLens co-founder and FAIR Institute chairman, will be keynote speaker. Stay tuned for more information on the full speaker lineup and agenda. In the meantime, be sure to REGISTER NOW. Registration fees vary based on membership levels. If you're not yet a member of the FAIR Institute, consider joining now.