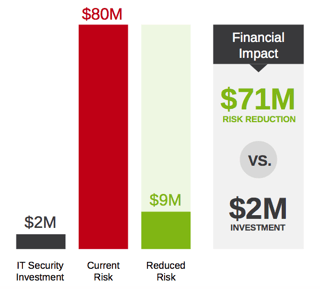 The webinar is over but come back next week for the recorded version.
If you're a risk analyst, risk manager, CISO, CIRO or any other job title tasked with protecting the organization against information or technology risks, you have a prioritization problem: too many threats, too little budget and staff and, most likely, inadequate tools to show you where to focus your scarce resources or how to make a case to management for more.
RiskLens wants to introduce you to risk quantification using FAIR (that's Factor Analysis of Information Risk), the way that savvy risk professionals model cyber risk in financial terms to make smarter, more defensible decisions on risk management.
Join us today, February 15 at 2 PM EST/11 AM PST, for our webinar:
Making the "Impossible" Possible: Quantifying Cyber Risk Through RiskLens
We'll show you how FAIR and the RiskLens platform (purpose-built on FAIR) will empower you to finally answer critical cybersecurity questions in financial terms, such as:
How much risk do we have overall?
What are our top risks?
What's the return on investment on controls?
What's the probable risk in a new initiative?
Who or what are our serious threats?
How much insurance should we buy?
The webinar will be hosted by highly experienced RiskLens consultants who have helped many organizations like yours start and run a quantitative risk program - from the nuts and bolts of risk scoping and modeling, up to preparing high-level reports for the Board. They'll explain quantification in non-technical terms, demonstrate the RiskLens platform in action and take your questions.
Make your move to translating cyber risk into business terms – join us today, February 15 at 2 PM EST/11 AM PST, for the webinar:
Making the "Impossible" Possible: Quantifying Cyber Risk Through RiskLens