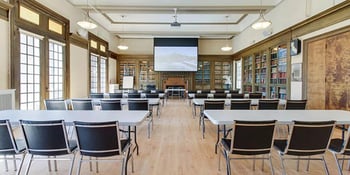 Coming soon: FAIR training in San Francisco before RSAC 2019. In 2018, the RiskLens Academy provided FAIR education to more people than ever before. More than 600 learners participated in our live or online FAIR Analysis Fundamentals and FAIR Analyst Learning Path courses.
---
David Musselwhite leads training for the RiskLens Academy.
---
Whether it's from top-down direction from boards and senior management responding to regulatory pressure to disclose risk in financial terms, or bottom up from risk analysts looking for more effective ways to do their jobs than qualitative analysis, the risk profession is clearly moving in the direction of FAIR, the international standard for quantitative risk management. Another sign of the times: membership in the FAIR Institute includes eight of the Fortune 10 and about 30% of the Fortune 100 organizations.
---
FAIR Analyst Learning Path
2018 saw the launch of the online FAIR Analyst Learning Path, intended to provide more advanced knowledge of FAIR by focusing on the hard skills needed to conduct a FAIR analysis. Four individual courses cover the four phases of the risk analysis process in depth: Scoping Analyses, Collecting Data & Estimates, Performing Quality Assurance, and Presenting Results.
With guidance and content from RiskLens' entire Professional Services team, the best and most experienced team of FAIR consultants in the business, the Learning Path represents the distillation of decades of lessons learned from performing FAIR analyses in dozens of organizations.
Learn more: FAIR Analyst Learning Path
FAIR Analysis Fundamentals
FAIR Analysis Fundamentals training is also available for those just starting out on their FAIR journey and wanting an introduction to the model and how it works. Accredited by the Open Group, our FAIR Analysis Fundamentals course, offered both live and online, prepares students for the OpenFAIR Level 1 Certification Exam and is the perfect way to further your education on quantitative cyber risk analysis methods.
Learn More: FAIR Analysis Fundamentals Online Training | Onsite Training | RSAC 2019 Training
If you want to up your cyber risk analysis and management, you have many opportunities in addition to our online course offerings. Check out some of the exciting events the RiskLens Academy is planning for the first half of 2019 and register today!
2019 Learning Opportunities at Major Conferences
FAIR Analysis Fundamentals course in San Francisco the 2 days before RSAC19 Course Details

Measuring and Managing Cyber Risk Using FAIR at SANS Orlando 2019. Course Details
---
Training Testimonials
Hear Dave Wolf, CISO at HomeStreet Bank, talk about his FAIR training experience...
Read some end-of-course survey feedback provided by recent students:
"I have been looking for a way to move beyond the '5 colors' and high/medium/low ratings. This training has given me new insight into a logical way to present risk to my stakeholders."
"I believe that this course helped me to better understand how to frame and communicate risk in a more quantitative and objective manner. The course was simple to use the material presented in a way that was easy to digest."
"This course will provide the framework and basis for the work I do in my role. I will start applying the knowledge I have acquired immediately."
RiskLens is the world leader in training for and implementing FAIR-based risk quantification programs in corporate and government settings. Contact Us.
"This course will directly and instantly assist in our implementation of sound risk management practices."
"Having taken this course, I can now perform more meaningful assessments of risk and he and replace our outdated heat maps."
"The instructors had exceptional knowledge of content and very good examples; the group activities were relevant and helpful."
"Great information, patiently and professionally presented."
"Your description of Monte Carlo simulation has proven more useful than anything I've found on my own."
"This course has made me want to stop EVERYONE from doing qualitative risk analysis!"