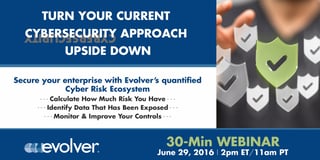 Evolver, Inc., a technology provider for Federal, Commercial and Legal clients announced today a partnership with RiskLens, the premier provider of cyber risk quantification software, which will play a major role in Evolver's revolutionary Cyber Risk Ecosystem. This unique cybersecurity approach helps their clients plan, monitor and execute cyber programs on a quantified financial basis.
For executives seeking to manage their cybersecurity programs based on dollars and cents, instead of qualitative terms such as "high, medium, low" or "increased threat" reports, Evolver quantifies an organization's cyber risk to identify the risk reduction opportunities throughout the entire cybersecurity process.
Nick Sanna, CEO of RiskLens said, "Evolver's Cyber Risk Ecosystem is a unique and holistic approach to cyber risk management that is ideal for organizations that want to build business-aligned risk management programs. The combination of RiskLens' strength in quantifying cyber risk with key and complementary cyber security and risk management services provides a one-stop solution for current and prospective Evolver customers."
Evolver will discuss and showcase the Cyber Risk Ecosystem in a Webinar: Turning the Current Cybersecurity Approach Upside Down on June 29, 2016 at 2:00 p.m. ET. Click here for more information and to register.
Read the official press release here.