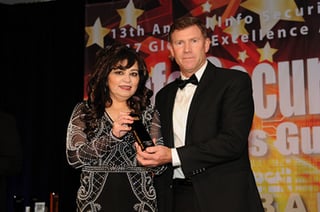 RiskLens was named a winner at the 13th Annual Info Security Products Guide's 2017 Global Excellence Awards in the Risk Management category.
Info Security Products Guide is the industry's leading information security research and advisory resource. The Global Excellence Awards program recognizes security and IT vendors with advanced, groundbreaking products and solutions that are helping set the bar higher in all areas of security and technology.
According to Steve Tabacek, President and Co-founder of RiskLens, "the perceived complexity of cyber security remains the leading reason some organizations believe it is impossible to quantify cyber risk in financial terms. But, the adoption of the RiskLens platform by industry-leading organizations and this award are a testament to the possibility".
As the leading provider of cyber risk quantification software, RiskLens empowers large enterprises and government organizations to manage cyber risk from the business perspective by quantifying it in dollars and cents. Using the RiskLens software-as-a-service platform, organizations can:
Report on their cyber risk exposure in financial terms
Prioritize their risk mitigations
Measure the ROI of their security investments
Optimize their cyber insurance coverage
The RiskLens platform is purpose-built built on Factor Analysis of Information Risk (FAIR), the only international standard risk model for information security and operational risk.
Bryan Smith, Chief Technology Officer at RiskLens says: "We are honored to be recognized as a leader by Info Security Products Guide within the Risk Management category. The RiskLens Platform distinguishes itself by offering the ability to manage cyber security and IT security in dollar and cents, making it feasible to articulate business impact to Executives and Boards. This award underscores RiskLens's dedication to providing the best and most innovative and advanced risk management solution on the market."