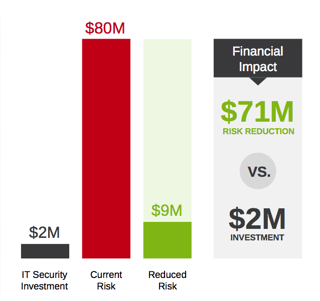 CIOs and IT finance professionals come to TBM Conference 2017 next week looking for insight and inspiration to run IT operations like a business. And RiskLens is coming to the TBM Conference to demonstrate how the RiskLens platform can help them manage cybersecurity from the business perspective, in line with the TBM framework's principles.
With the RiskLens platform, you stop managing risk based on guesswork and color-coded heat maps, and start truly managing the economics of cyber risk. RiskLens enables CIOs, CFOs and CISOs to:
Articulate the value of cybersecurity to the business and the board in financial terms
Calculate the ROI of cybersecurity investments
Align the cybersecurity budget to business objectives
RiskLens is powered by the FAIR model, an internationally recognized standard for the quantification of risk, and is used by many Fortune Companies to manage cybersecurity and operational risk.
Come meet RiskLens Co-Founder and President Steve Tabacek and Chief Executive Officer Nick Sanna at Booth #19 at TBM Conference 2017, November 6-9, at the Wynn Las Vegas.
---
Read the RiskLens eBook An Executive's Guide to Cyber Risk Economics.