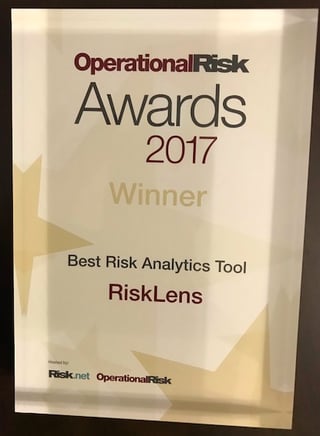 RiskLens has just been named Best Risk Analytics Tool in the 2017 OpRisk Awards, the prestigious competition judged by the editors of Risk magazine.
"This was an exceptionally competitive category, so to win is a testament to RiskLens' standing in the global op risk community," says Risk Editor Tom Osborn.
Entries in the Best Risk Analytics Tool category had to show superior functionality for
risk-based portfolio modeling
'what if' analysis
stress testing
Monte Carlo simulation
ability to provide VAR (Value at Risk) and NAV (Net Asset Value) figures.
The 2017 OpRisk Award is the second in a row for RiskLens; RiskLens also won OpRisk's Best Cyber Risk Product of 2016.
The awards honor our flagship Cyber Risk Quantification application that empowers large enterprises and government organizations to understand their cybersecurity, IT and other operational risks in financial terms. With the RiskLens CRQ application, risk managers make better decisions faster on risk mitigation and budgeting for security.
Read the press release on the 2017 OpRisk Awards honor for RiskLens.