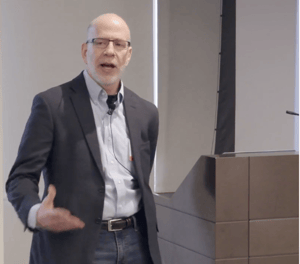 Jack Jones, creator of the FAIR model and co-founder of RiskLens, will be a featured speaker at several events at the 2018 RSA Conference, April 16-20—an opportunity to hear and learn from the leading thinker on quantitative risk management for cyber and operational risk. RiskLens team members will also be on hand to give details on the RiskLens platform, purpose-built on FAIR (contact us to connect at RSA).
Here's where and when you can catch Jack:
Tuesday, April 17
From 'No Data' to 'Drowning in Data'—It's Time for a Reality Check
Apr. 17, 2018 | 3:30 - 4:15 PM | Moscone South Esplanade 157, RSA Conference | San Francisco, CA
Jack has long been a proponent of smart data utilization, skills even more to the fore now that telemetry from security technologies piles data on top of data. In this session, Jack will discuss how find the nuggets in the data pile that show the way to a true understanding of the risks your organization needs to take seriously (or not so much).
Wednesday, April 18
FAIR Institute Breakfast Meeting Keynote
Apr. 18, 2018 | 7:30 - 10:00 AM | Morrison & Foerster LLP | San Francisco, CA
Note: Seating at this event has been filled. Please visit FAIR Institute Link to view a video of the event in the near future. A free FAIR Institute membership is required – join the FAIR Institute now.
Jack gives a keynote address "The Blueprint: Successfully Building Your FAIR Risk Management Program" with actionable tips on bringing FAIR to your organization, at an event that's also an opportunity to network with and learn from FAIR practitioners who successfully introduced risk quantification programs.
Issues of Quantifying Risk around Identity and Access Management (IAM)
Apr. 18, 2018 | 3:00 - 3:30 PM | Moscone West 2018, RSA Conference | San Francisco, CA
Take a deep dive into identity and access management (IAM) from the point of view of FAIR risk analysis, as Jack joins two other FAIR experts, Tony Martin-Vegue of Lending Club and Evan Wheeler of Financial Engines. How much energy should we be investing in these programs? How much risk is there for managing identities?
Thursday, April 19
RSA Archer Cyber Risk Quantification® Launch Breakfast
Apr. 19, 2018 | 8:00 - 9:30 AM | RSA Booth N3601 - Moscone North Expo Hall
Jack speaks on "Best Practices for FAIR Risk Management" at this kick-off event for the RSA Archer Cyber Risk Quantification® use case, the RSA-branded version of RiskLens' flagship Cyber Risk Quantification (CRQ)application.