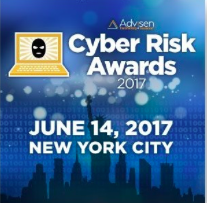 We're humbled to share that we've been nominated in Advisen's 2017 Cyber Risk Awards as a contender for the title "Cyber Innovation of the Year" for our Cyber Risk Quantification (CRQ) application.
Please join us in celebrating this honor by casting your vote for RiskLens online via Advisen's poll, found here. [Voting is now closed. Thanks for.your votes!]
In just four easy steps, you can support our mission to empower large enterprises and government organizations to manage cyber risk from the business perspective.
Don't forget - the deadline to submit your vote is Friday, May 19, 11:59 p.m. ET.
How to Vote RiskLens "Cyber Innovator of the Year"
Visit Advisen's online poll, here, or via the voting button below.
Fill out the form by adding your valid company email address.
Scroll down to the "Cyber Risk Innovation of the Year" contenders dropdown list.
Select "RiskLens - Cyber Risk Quantification" and hit "Submit" to cast your vote!
Winners will be announced at Advisen's 4th annual Cyber Risk Awards gala dinner in New York City this coming June.
"Unlike other industry award presentations that kowtow to advertisers, Advisen's Cyber Risk Awards are determined by 'People's Choice' and leverage Advisen's vast contact database of over 40,000 P&C professionals who care about Cyber Risk," says Advisen.com.
Thank you for your continued support,
The RiskLens Team