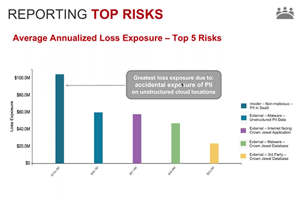 Listen (on demand) to this webinar, led by veteran RiskLens risk consultant Rachel Slabotsky, for a quick, high level introduction to the FAIR model for cyber risk quantification, along with a look at some use cases for the RiskLens application that solve the problems we most often hear about from clients.
Among the topics Rachel covers:
How to recognize and define your organization's risks in a way that can be analyzed in financial terms.
How the RiskLens application uses Monte Carlo simulations to produce risk reports that truly support decision-making.
How to the introduce reporting based on the FAIR model to your organization in a phased way to build understanding and support for communicating cyber risk in financial terms.
---
Gartner calls cyber risk quantification one of the five pillars of integrated risk management.
---
Rachel will also show results from some analyses she has helped RiskLens clients conduct:
Identifying an organization's Top Five risks in cyberspace. One of the surprises of this analysis was that risks can have low impact on an individual basis but aggregated over time add up to a Top Fiver.
Estimating ROI on cybersecurity investments – how one company gamed out two options for protecting against a data breach, purging stale data vs. tokenization.
Establishing a risk appetite. Rachel shows how a FAIR analysis and the RiskLens platform can a translate seat-of-the-pants sense of how much risk an organization can handle into a risk exposure with a numeric value that guides decision-making.
Join Rachel for the webinar Risk Quantification, the Business Lens for Your Security Operation now: