Large Healthcare Provider Assesses The Efficacy of Anti-Phishing Training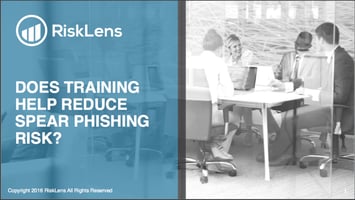 A Fortune 100 healthcare provider analyzed if email phishing awareness training could reduce the risk associated with spear and regular phishing.
The information risk team used RiskLens' Cyber Risk Quantification application to compare:
the current state's risk based on known controls in place
how much risk there would be, by implementing a phishing awareness and training program
They were able to determine that training would only marginally reduce risk and that alternative risk mitigations would be more effective.
Download the case study today to see how RiskLens was used by this organization to determine the efficacy of anti-phishing traning.