120 Minutes on Cyber Risk
A National Conversation
We would like to invite you to participate in our brand-new, nationwide, luncheon series focusing on The Business of Cyber Risk: Quantifying and Managing Risk in Financial Terms. Hear from industry thought leaders as they present on how quantified cyber risk management programs are completely reshaping enterprise security operations.
At this networking lunch, our speakers will share insight on how to:
Meet Board and C-Suite demands for a financial view into potential losses from cyber events
Shape strategic investments in cybersecurity around the issues that matter most to the business
Drive better tactical resource prioritization by responding to issues that represent the biggest threat (in financial terms) to the business
Address growing regulatory demands for a financial view into cyber risk
We look forward to having you join the conversation at one of our upcoming nationwide luncheons:
Washington, D.C.
April 9, 2019

Chicago, IL
May 15, 2019
Registration Coming Soon!
Charlotte, NC
June 12, 2019
Registration Coming Soon!
Houston, TX
Registration Coming Soon!
Detroit, MI
Registration Coming Soon!
Additional Locations Forthcoming
*120 Minutes on Cyber Risk is a regional lunch series geared towards individuals serving in a CISO or other high-level IT executive position.
RiskLens
reserves the right to review each registration and, at its own discretion, modify or cancel any registration deemed unsuitable for this event.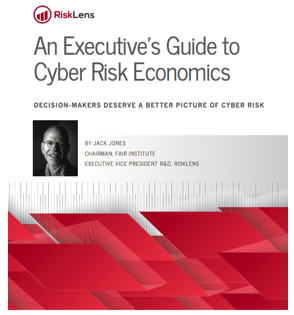 An Executive's Guide to Cyber Risk Economics
We look forward to you joining the national conversation on cyber risk in a city near you!
In the mean time, please enjoy a complimentary copy of our eBook designed for decision-makers who seeking a better picture of cyber risk.