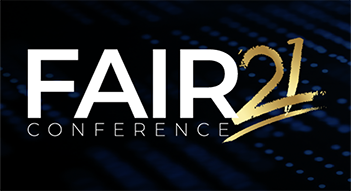 For the latest in techniques and thought leadership from the best practitioners and advocates of cyber risk quantification, you'll want to attend the FAIR Institute's 2021 FAIR Conference (FAIRCON21), coming October 19-20 in an all-virtual presentation.
Free tickets are still available through October 1 for FAIR Institute members.
Get a free membership in the FAIR Institute
See the FAIR Conference agenda
Whether you're new to the FAIR™ standard for quantitative analysis of cyber and technology risk or an experienced hand, the conference has tracks to fit your interests.
Some highlights from the agenda:
FAIR creator and RiskLens Chief Risk Scientist Jack Jones will introduce the FAIR Controls Analytics Model™ (FAIR-CAM™), a major extension of FAIR that enables quantification of the effects on risk reduction of cybersecurity controls and controls systems. Jack's presentation will be followed by sessions on using FAIR-CAM with the major controls frameworks and a case study in evaluating controls with the new model.
RiskLens will announce the launch of a new product that will significantly advance our mission to make quantitative analysis simpler and faster.
RiskLens Data Science team will report on their research into advanced methods to predict losses from data breaches.
Keynote addresses from John A. Wheeler, risk management guru at Gartner, and Mary O'Brien, General Manager of IBM Security.
Presentations of case studies and actionable insights and tips from security and risk practitioners and regulators at Freddie Mac, Netflix, Protiviti, HPE, KeyBank, Federal Reserve, DHS National Risk Management Center, Government Employees Health Association and many more.
RiskLens will staff a virtual booth at the conference to handle any of your questions. We hope to see you there, October 19-20 – register now for the 2021 FAIR Conference.
Stay up-to-date with the latest insights and blog posts from RiskLens.