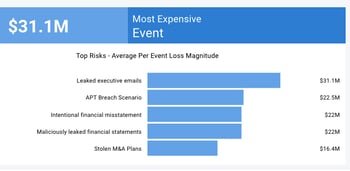 It's a common scenario: boards, senior management or corporate strategists are planning a new project, working to comply with regulations, setting IT budget, or are just new to their roles – and are demanding to see a prioritized list of relevant infosecurity risks, fast. What are top risks for bottom-line impact? The most serious for probable losses from outage or non-availability? Most likely to exceed risk appetite?
The risk or security teams spring into action – or more typically, fire up a cumbersome risk assessment process that could take weeks or months of collecting and synthesizing data. And in the end would yield results in technical or qualitative terms that still don't deliver a list of risks prioritized in financial terms useful to decision makers.
The underlying problems: Lack of an analytical model to render cyber risk into dollar values, no way to store and update data for easy access in analyses, no solution to quickly generate reporting acceptable to business leaders. The result: Frustration between CISOs, CIROs and their business counterparts and an inability to take quick action.
RiskLens is introducing our solution to that challenge: the Rapid Risk Assessment, a SaaS solution built on the FAIR model, the international standard for cyber and technology risk quantification. With a Rapid Risk Assessment, organizations are able to identify, prioritize and communicate their top risks in financial terms, with the speed and clarity that the business demands.
Here are some of the key features of the solution:
Experienced RiskLens consultants lead a 2-3 day, kick-off workshop with your team to scope and identify an initial 20-40 risks – and to give the team hands-on experience with risk prioritization. Set-up of the RiskLens SaaS platform included.
The RiskLens platform comes with built-in with industry risk data and a simple, intuitive assessment process, two features that enable risk assessment measured in minutes, not weeks.
The platform generates flexible and customizable reports (including top risks for probable loss exposure, all risks prioritized, highest severity loss event and many more) in financial terms ready to present to non-technical, business audiences. See a sample risk report below.
A top risks dashboard to track your changing risk landscape.
A library to store defined risks to speed future analyses.
A blueprint for your team to go forward with a self-sustaining analysis program, complimented by coaching from RiskLens as needed.
The experience and tools to start your journey to building a comprehensive quantification-powered risk management program with the RiskLens SaaS platform.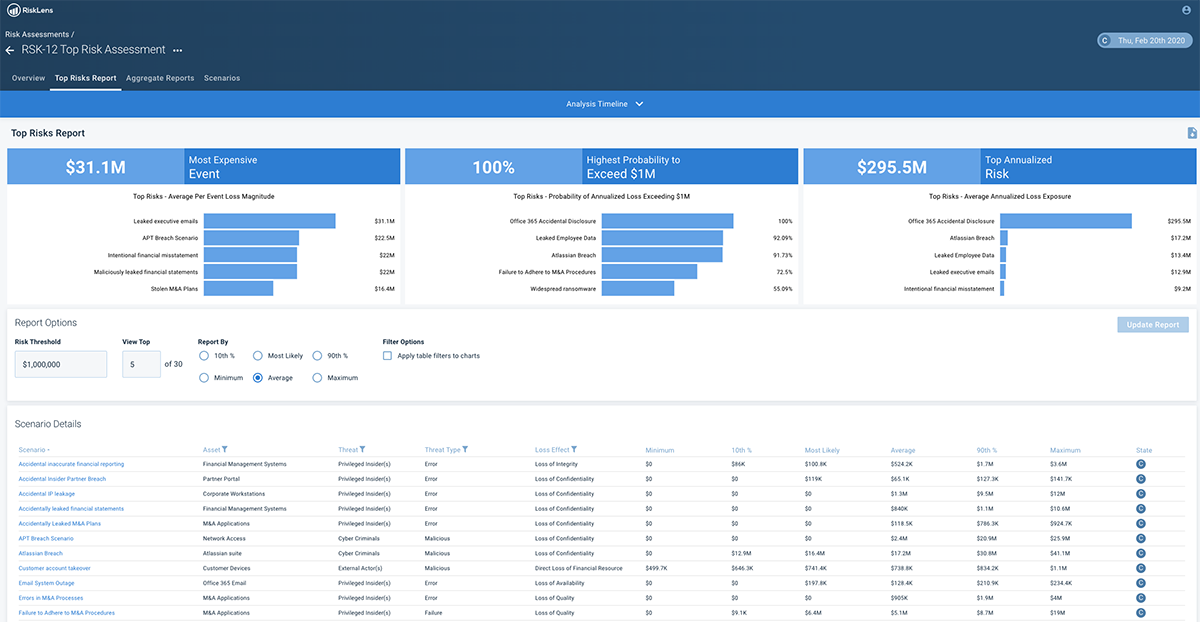 Learn more about the Rapid Risk Assessment solution now, or Contact Us, to discuss how RiskLens can bring the speed and power of quantitative cyber risk analysis to your organization.
Stay up-to-date with the latest insights and blog posts from RiskLens.