Manage Digital
Risk
Understand your risks in financial terms, facilitating improved decision making across the C-Suite and Board.
Prioritize & Justify Cybersecurity Initiatives
Prioritize cybersecurity projects relative to the risk they reduce, measuring their value and optimizing spending.
Meet Regulatory
Requirements
Improve the quality, consistency and scalability of your cyber risk management program.
Discover the Impact of Your Industry's Greatest Cyber Risks in This NEW Report
New to cyber risk quantification or FAIR? This Industry Cyber Risk Benchmark Report is the BEST way to get started.
Try it FREE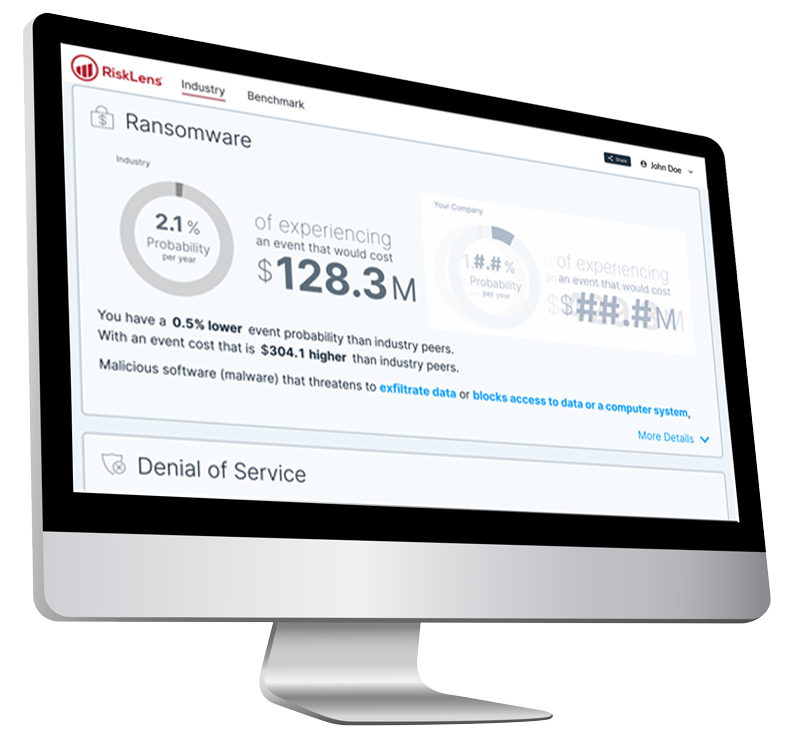 "Security leaders have often struggled to communicate the value of a security investment to business leaders. Our Risk Quantification Services not only enables security leaders to articulate risks and potential exposure in terms of financial loss, it empowers them to measure the actual efficacy of existing security protocols, based on our analysis of their business environment, assets, security architecture and the potential threats to their organization."
Julian Meyrick | Vice President
"RiskLens has been an invaluable partner in our journey toward a quantified cyber risk program. They've been integral to our success by helping educate and train our teams in the early stages of adopting the FAIR model, guiding us on the roadmap to enterprise-wide adoption through their professional services team, helping on-board the RiskLens platform, and showing us rapid value from the investment."
Christopher Porter | CISO
"When you're sitting at the table with business decision makers, it's much easier to discuss risk with a quantifiable (financially-oriented) model."
Ian Amit | Chief Security Officer
"With RiskLens, we are taking the security program away from being a cost center to being a value center," Khawaja commented. "I can have conversations with business leaders in a much more confident manner because I'm measuring risk in ways that are applicable to the business. And I can empower my team to make optimal decisions on prioritizing projects based on risk reduction."
Omar Khawaja | CISO