How do you compare? Gauge yourself against industry peers today!
In moments gain insights into your company's cyber risk compared to your industry with My Cyber Risk Benchmark.
How much risk do we have?
This dreaded question is often followed by "What cyber risks do we face?" All too often security professionals like yourself are left answering with "I don't know" or asking back "How do we measure the cost of a cyber risk event?"
Your top risks quantified
You can't answer with "We have Yellow risk" and a heatmap doesn't answer "How much?".
My Cyber Risk Benchmark provides you with a boardroom-ready assessment of your company's top 7 risk themes in financial terms.
We've made risk simple
RiskLens, the inventors of Cyber Risk Quantification, have leveraged their years of experience, data science, and research to bring to you the easiest and fastest way to answer how much risk you have.
Compare against your industry
Every industry has unique concerns and what may be a top concern for one industry may not be for yours.
Gauge your company against your industry and companies similar to yourself.
Are you ready to answer "How much risk do I have?"
Powered by Stripe
(Or click here to request an invoice)
Your subscription includes:
Benchmark Comparison Report – View a side-by-side snapshot of how your organization's quantified cyber risk compares to your industry averages across a range of cyber threats.

Fast, Flexible Operation – Get a high-level quantified view into your industry's and organization's top risks with only a few simple inputs. Your results are custom fit to you, based on your fimographics (industry, size, revenue), what's at risk (how many PII, PCI, PHI records), and your security posture (measured by SecurityScorecard).

Automated Risk Calculation – Your cyber risk quantified top themes are automatically calculated for you. No need to spend hours or days gathering information.

Updated Quarterly – Risk landscapes, posture, and threats are constantly changing, so don't depend on results from a year or more ago. We update the results quarterly so you're always up to date.

Unlimited access to empirical cyber risk data – Updated quarterly and derived from trusted data sources, including the Advisen, Verizon Data Breach Investigations Report, the VERIS Community Database (VCDB), SecurityScorecard, and more.

Export your report – Communicate your results across your organization with the ability to export via PDF.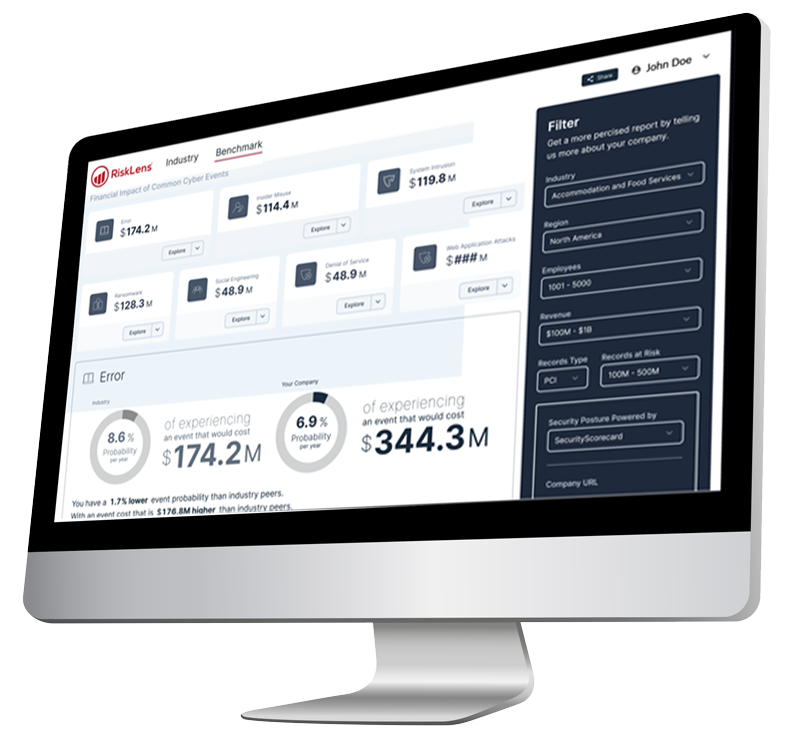 $10,000 / year
$5,000 / year
For a limited time, we're offering My Cyber Risk Benchmark with an introductory launch price – 50% off your subscription for the life of your contract!
(Or click here to request an invoice)
You'd pay tens of thousands for this information with a consultancy and the results wouldn't stay up to date.
Be prepared for your next C-Suite or Board Conversation
Your Risk for a Web Application Attack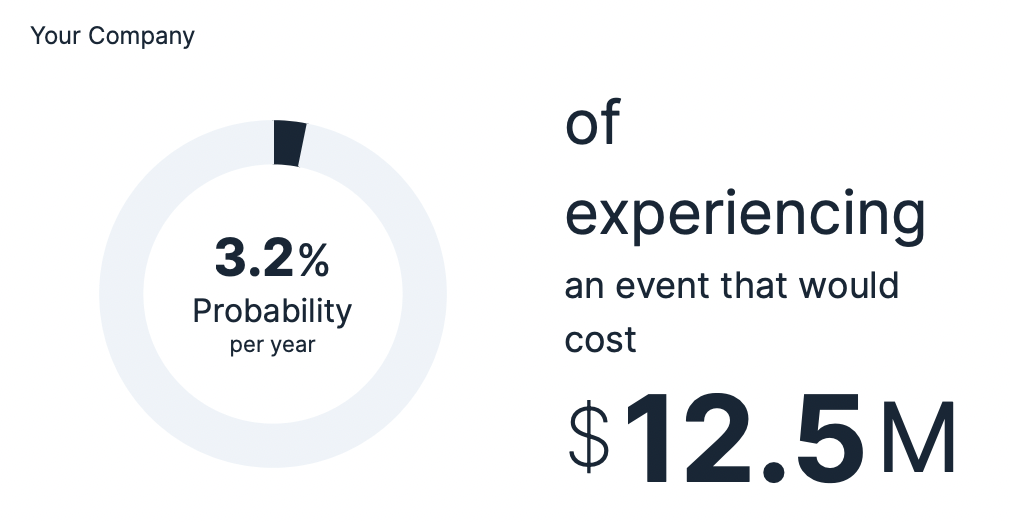 Incident Costs Driven By

Do these questions sound familiar?
"How do we compare to our industry peers?"

"Are we focused on the right things?"

"Are we doing enough?"

"Are our investments aligned to provide meaningful impact?"
Unfortunately, qualitative assessments alone won't help you answer these questions. Nor guide you to better decisions. But risk, measured in financial terms, allows you to clearly articulate the impact of a cyber security incident.
My Cyber Risk Benchmark allows you to clearly compare your company's top risk themes in financial terms. Allowing you to clearly communicate what is at stake and provide answers to:
What type of events are we likely to have and what does it mean to us?
If a cybersecurity event occurs how much is at stake?
Are we being effective? What's the probability of an incident verse the industry?
If we have an event, what type of losses will we incur and how will it occur?
Are your industry peers managing risk better than you?
No industry and business are the same
Every company faces these threats every day, but the probability and impact of these events are unique to your industry and your company. Your industry, company demographics, and your own security posture make you unique.
With My Cyber Risk Benchmark, you can explore the risk for a company just like yours. Or you can explore the risk of tens of thousands of other businesses.
Clearly see how you compare
Based on years of experience, data science, and research we show you how your industry and company stack up against Denial of Service, Insider Error, Insider Misuse, Ransomware, Social Engineering, System Intrusion, and Web Application Attacks.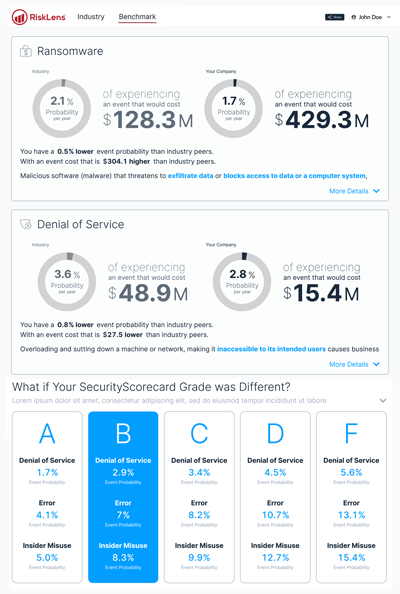 Let SecurityScorecard measure your security posture
Do you know if you are more or less likely than your industry peers to be susceptible to web application attacks or system intrusions?
We've partnered with industry leader SecurityScorecard to measure your security posture. With a free or paid SecuirtyScorecard account, you can use their outside-in view to measure your security posture. Based on their trusted, transparent ratings methodology and data collected on millions of organizations we assess the impact on the probability your company has to cyber events verse your industry.

What is Cyber Risk Quantification?

You're in good company
13,000
Members Worldwide
45%
Fortune 1000 Orgs
Cyber Risk Quantification is the practice of assessing the probability and financial impact of cybersecurity incidents. Cyber Risk Quantification in financial terms was born when Jack Jones, CISO at Nationwide Insurance, recognized the importance of communicating the COST of negative cybersecurity events and other errors across the organization in a way board of directors, C-suite, and any business unit could understand.
This realization led to the creation of Factor Analysis of Information Risk (FAIR), the only open standard in Cyber Risk Quantification.
Now, Cybersecurity leaders across the globe recognize FAIR as the best way to accurately assess, compare, and make financial decisions about risk.
Watch the introductory on-demand webinar for My Cyber Risk Benchmark
View the webinar now
or

Powered by Stripe