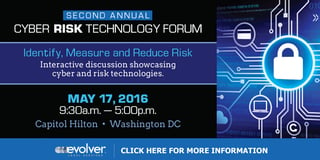 Are you struggling to understand loss exposure related to cyber risks for your organization? Do you know the liability associated with your top 10 risks? Are you looking for ways to identify the risk mitigation initiatives that will reduce risk the most?
If you answered 'yes' to any of these questions, come discover how to identify and measure cyber risk. Attend the second-annual Cyber Risk Technology Forum in DC on Tuesday, May 17th, hosted by Evolver.
RiskLens CEO, Nick Sanna, will be presenting and conducting a live product demo from 10:30 - 11:30 AM at a session titled, "Valuing the Invaluable - Identify, Measure & Value Cyber Risk in Financial Terms."
Attendees will learn how they can help get better visibility into cyber risks by:
Understanding cyber loss exposure in financial terms
Identifying areas of concentration of risk
Prioritizing risk mitigations based on actual risk reduction
Optimizing cyber insurance coverage
Space is limited as this is an exclusive by invitation-only event. Please contact us to request an invitation.