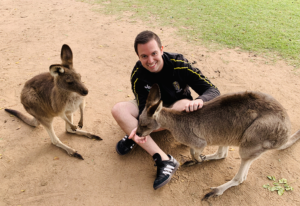 Greetings from Brisbane, Australia, where the last of four FAIR Analysis Fundamentals courses begins tomorrow.
When I set out for Sydney more than a week ago, I knew I would be meeting learners who were open to moving their organizations beyond qualitative risk analysis methods that leverage subjective ratings, 1-5 likelihood and impact scales, and illogical heat maps. But the 70+ risk professionals I've worked with here have demonstrated a level of eagerness and enthusiasm to adopt FAIR that I couldn't have anticipated.
Learners from government and public safety entities, large financial services institutions, leading payment processors, non-profit organizations, transportation firms, major telecom players, and one of the world's largest pizza chains have demonstrated that they are not only open to FAIR, but HUNGRY for it. (My word choice was hijacked by the mention of pizza.)
These risk management and information security professionals realize that in order to properly educate internal stakeholders on the scenarios that would lead to the largest amounts of loss they have to stop talking in colors and arbitrary numbers and instead build logical, defensible forecasting models that speak the language of the business: dollars and cents.
---
David Musselwhite leads FAIR training services for RiskLens.
---
FAIR Analysis Fundamentals training from RiskLens prepares you to do just that. In our two-day course you'll learn
Why likelihood x impact = risk is a flawed model that fails to yield logical, useful measurements of risk
The many ways heat maps and traditional qualitative risk analysis methods are illogical and fail to support sound decision-making
The fundamental concepts of quantitative risk analysis using FAIR
The structure and logic of the FAIR model
The four-step process for completing a FAIR analysis
How to clearly and confidently explain the results of FAIR analyses to decision-makers
How to build business cases that inform decision-makers as to the return on investment on cyber control implementations
And much, much more!
Equipped with the foundational knowledge of FAIR, as well as the hands-on experience of working through multiple real-world analyses via guided case studies, students leave our course ready to vastly improve the usefulness and defensibility of their risk analyses. Like the kangaroos I met at the Lone Pine Koala Sanctuary, our learners and the organizations they represent are making gigantic leaps forward as they seek to build the most effective and efficient risk management programs in their industries.
"Quantitative risk analysis, especially as taught by RiskLens, is clearly superior to the methods we and our clients are using," reported one learner from a worldwide consulting firm. "FAIR Analysis Fundamentals gave me the knowledge I need to advance my organization's risk practice, clarity on how to demonstrate and explain to others that their current analysis methods are flawed, and the confidence to begin performing FAIR analyses tomorrow. The course was well-structured, the materials top-notch, and the instructor from RiskLens was incredibly knowledgeable and spoke from a vast amount of experience using FAIR and implementing a quantitative risk analysis program enterprise-wide. This was by far the most informative, useful, and enjoyable training on risk analysis/management I have ever attended."
"I found the training very interesting and challenging to the embedded qualitative based approach most banks currently have in place," added an Operational Risk Manager from a prominent regional bank. "I can see how the FAIR approach could be a revolutionary step forward towards much better risk analysis."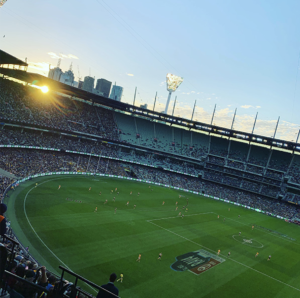 Aussie Rules Football, despite its name, is a sport without many rules. Players make vicious diving tackles to win control of the ball, clap their opponents across the face when the referee isn't looking, and just generally unleash mayhem in hopes of taking home the victory. If you've never seen a game, I highly recommend you give it a go. Unlike this brutal and brilliantly entertaining sport, the game of business has a clear rule: in order to maximize future value, future losses have to be limited to within acceptable tolerances in the most cost-effective manner. Analysts and organizations that adopt FAIR are vastly increasing their chances of achieving that goal by making better-informed decisions based on defensible analysis and a sound model for forecasting future loss. Will you join them?
For more information on RiskLens's FAIR training offerings, please visit our FAIR training information page and/or contact us online or by email at training@risklens.com.
Stay up-to-date with the latest insights and blog posts from RiskLens.