If I've learned anything about the mindsets of CISOs and other security decision-makers, it's that data rules.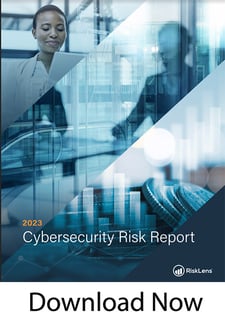 This is nothing new to us at RiskLens, as we help thousands of organizations use data to discover, understand and communicate their cyber risk in financial terms. Indeed, our invention of and adherence to the Factor Analysis of Information Risk (FAIR™) model is our continuing statement to the industry that legacy methods (and even some newer ones) are not driven nearly enough by data (e.g., heat maps, ordinal scales, simple security scores, etc.), and as a result, do not provide sufficiently specific data to help security leaders make critical security decisions.
---
James Graham is Vice President, Marketing, for RiskLens
---
Last year, we took a strong step forward in exposing FAIR-based data insights, making them accessible to everyone with the launch of our My Cyber Risk Benchmark tool, which has helped thousands of security and risk professionals quickly and easily discover and understand through cyber risk quantification (CRQ) the top risks their industries face.
Today, we take the next step in our "CRQ for all" mission with the publication of the first annual RiskLens Cybersecurity Risk Report, our contribution to the corpus of trusted data-driven cybersecurity and risk reporting available to the security community today. This new report, available as a free download, provides visibility into the impact of top cyber risks, based on real incidents experienced by companies in the past year.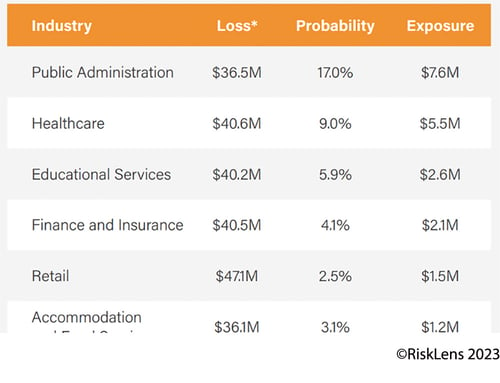 Detail of sample chart from the report.
---
Download your free copy of the RiskLens 2023 Cybersecurity Risk Report now.
---
Readers of the new report will gain access to data-driven cyber risk insights around a range of industries and cyber threat themes, including top risks and industries by overall loss exposure, top risk themes by industry, top industries organized by risk theme, the effects of security posture on cyber risk exposure, and more.
To supplement the report's insights, we're proud to include a powerful contribution by our partners at IBM; the inaugural report includes a collection of real-life customer stories from Julian Meyrick, managing partner and vice president, security strategy risk and compliance, security services.
In closing, we are proud to launch this new dataset to help our CISO partners and clients discover and better understand cyber risk, and the unique value that FAIR can bring to their decision making.
Read a press release: Industry-first quantitative cyber risk impact report gives business leaders real data and actionable insights based on actual customer incidents and financial exposure
---
RiskLens offers quantitative cyber risk management solutions built on the FAIR™ standard. Leverage RiskLens to understand your cyber risks in financial terms. Contact us for a demo.
Stay up-to-date with the latest insights and blog posts from RiskLens.