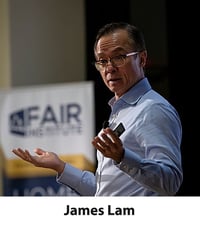 RiskLens, the leader in software and services for quantifying cyber risk in financial terms, and James Lam & Associates, the boutique risk consulting firm led by James Lam, one of the world's foremost experts on enterprise risk management and corporate governance, today announced a partnership to offer advisory services to support the full spectrum of strategic risk management at Fortune 1000 companies.
The partners will join forces to deliver risk advisory services for:
Reviewing and developing board reporting on cyber risk in the full context of enterprise risk management
Assessing board-level policies, metrics, and reports, including risk appetite statements and tolerances
Integrating cybersecurity and operational risk management
Building enterprise risk management (ERM) programs
"Cyber risk is not only a technology and security issue, but a strategic business risk," said James Lam, "and organizations that can integrate cyber risk into an ERM program will have an important competitive advantage."
"Good risk management has to be preceded by good risk quantification – what gets measured gets managed," RiskLens President and CEO Nick Sanna said. "Our new partnership will give clients a solid footing in the best practices and solutions of quantitative risk analysis, along with the communication capabilities that boards and the C-suite demand."
RiskLens is the creator of Factor Analysis of Information Risk (FAIR™), the international standard for financial quantification of cyber, technology and operational risk, recognized by the National Institute of Standards and Technology and other authorities. The RiskLens team is the most experienced in the world at launching and growing quantitative cyber risk management programs and the RiskLens risk analytics platform is in use at dozens of Fortune 1000 organizations.
In a distinguished career as a pioneer of enterprise risk management, James Lam has served as Chief Risk Officer for GE Capital (as the world's first CRO role) and for Fidelity Investments and Chair of the Risk Oversight Board Committee at E*TRADE. James is the author of best-selling books on enterprise risk management that are standard texts for college and graduate courses. Among many other honors, he has been named by the National Association of Corporate Directors to the NACD Directorship 100. He brings his unique blend of risk management experiences spanning executive, advisory, and board roles, to every consulting engagement.
Let us tell you more about the new risk advisory services from RiskLens and James Lam & Associates – contact us.
Stay up-to-date with the latest insights and blog posts from RiskLens.