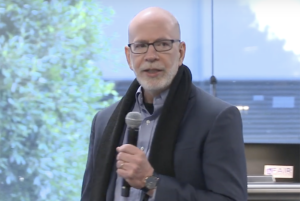 The 2020 FAIR Conference (FAIRCON2020), the FAIR Institute's annual gathering of the best thinkers (and curious learners) about quantitative risk management, goes virtual this year, October 6 and 7, with an extensive lineup of important keynote speakers (like FAIR model creator Jack Jones, right), engaging C-suite panels and expert case study sessions.
RiskLens, the technical adviser to the Institute, will be on hand, with our largest offering yet of FAIR training courses (check out the course guide), taught by the most experienced team in implementing quantitative risk management programs.
This year's theme is "Factoring Risk in Decision Making" with a special emphasis on Fortune 1000 companies and U.S federal government agencies sharing their breakthrough work in business-aligned communication, cost-effective decision-making, and ultimately managing what matters in risk. (See 2019 FAIR Conference recaps and videos on the FAIR Institute website.)
FAIRCON2020 will also host a virtual Exhibitor Space, with opportunities to connect with event partners and sponsors through live chat.
Registration for the event is free for FAIR Institute members – so apply for membership now (also free to those in in the industry). Non-members may attend for a $150 fee. Register now.
Call for Speakers
The FAIR Institute has also put out the call for speakers, Institute members who are experienced FAIR practitioners and looking for an opportunity to share success stories and receive feedback from peers.
Presentations will be 30 minutes in length, aligned to the theme of "Factoring Risk in Decision Making," and covering such topics as:
· Demonstrations of the value of cybersecurity or other risk mitigation initiatives
· An ability to enable cost-effective decision making through FAIR-based risk analyses
· How the COVID-19 crisis changed decision-making in your organization
· Your lessons learned from building a quantitative risk management program
· Past presentations to your business and board of your organization's top risks
· Meeting new regulatory requirements
· Integrating FAIR with other standards as a foundation for your risk management program
To apply, email the Institute by close of business Friday, June 26, with your name, a brief bio and contact information, along with a short summary of your topic. Include "FAIRCON2020 Speaker Application" in your email's subject line.
Learn more and register at the 2020 FAIR Conference website.
RiskLens is looking forward to (virtually) seeing you at the 2020 FAIR Conference!
Stay up-to-date with the latest insights and blog posts from RiskLens.