In this short webinar, RiskLens Product Manager Taylor Maze gives a tour of Portfolio Management, a new solution on the RiskLens platform, the latest in the series of product releases designed to solve the most common and urgent use cases in cyber and technology risk management.
Watch the webinar now: CRQ Use Case Series: Portfolio Management -- Reporting to the Board and Beyond
---
As Taylor explains, "The one thing every organization has in common is they are going to have diverse audiences, different contexts, interest, levels of knowledge and really are asking slightly different questions about risk.
"You need a single solution that can provide a comprehensive view into your risk landscape. Portfolio Management is about creating structured risk views based on what matters most to you."
With Portfolio Management, RiskLens users can quickly pivot among views of:
Enterprise cyber risk by business unit, for instance for board reporting to show risk vs revenue among lines of business.
Enterprise risk by cyber event, for instance to help a CISO allocate budget among mitigations.
Cyber event risk by business unit, for instance to answer the question "Our competitor just got hit with a specific type of attack – what would the same event mean for us?"
Other views might be by revenue streams, strategic initiatives, crown jewel assets or attack vectors – or any other categories your organization can think of.
Slide from the Webinar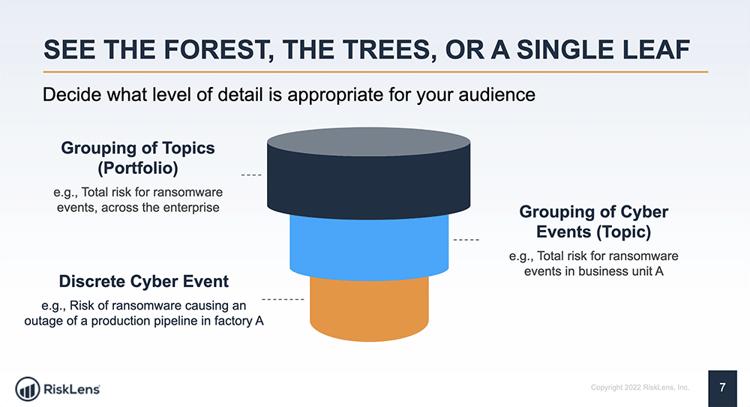 How RiskLen
How RiskLens Portfolio Management Works
It's simple, really: Start with the same risk scenarios you create for RiskLens cyber risk quantitative analysis, create Topics and tag them to groups of scenarios, then aggregate Topics in one or more Portfolios, to present the various views the organization needs to see. Clients who purchase the Portfolio Management Use Case get unlimited portfolios and topics. As risk scenarios are updated, so are the Portfolios.
As Taylor says, Portfolio Management "saves you time and energy to be able to spend time on what matters most and begin to focus on the mitigations and next steps for cyber loss events."
Reporting from Portfolio Management - Risk by Business Unit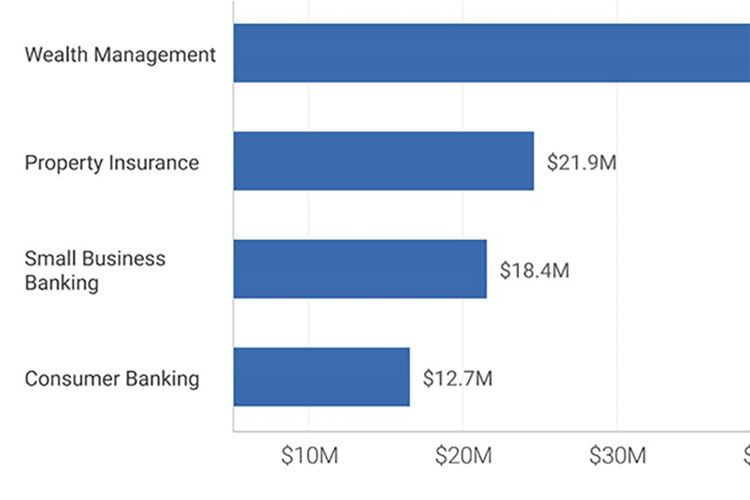 Watch the webinar now: CRQ Use Case Series: Portfolio Management -- Reporting to the Board and Beyond
Stay up-to-date with the latest insights and blog posts from RiskLens.