Watch this short video from this week's FAIR Conference 2020 for a quick introduction by RiskLens Chief Product Officer Orion Suydam to two new capabilities on the RiskLens platform:
Rapid Risk Assessment
Risk Treatment Analysis
As Orion explains, the platform already delivered FAIR-based quantitative analysis of cyber risk for understanding the risk landscape and communicating about risk in the financial language of business. These new capabilities deliver on "factoring risk into decision making so you can best serve the needs of your organization as it navigates some of the trickiest waters that we've seen in a long time."
Rapid Risk Assessment
"Not every risk concern is equal," Orion says, and risk analysts are typically swamped with analysis requests. "RiskLens recognized a need to deploy FAIR fast to quickly and accurately assess risk to enable well informed risk decisions about events that are complex and moving at the speed of business."
You'll see in the video how Rapid Risk Assessment accelerates four stages of risk analysis to a 15-30-minute process:
Scope Risk Scenarios with a simple workflow and asset library
Answer Assessment Questions – speeded up with dropdown menus of answers, no consulting subject matter experts (SMEs) required.
Run Monte Carlo Simulations – applying the core function of RiskLens/FAIR analysis
Evaluate Assessment Results – get a quick pulse on which risks present the most loss exposure and might be worth detailed analysis.
Learn more about Rapid Risk Analysis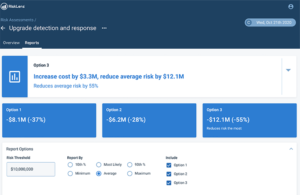 Detail of a Risk Treatment Analysis
Risk Treatment Analysis
This new capability responds to the difficult tradeoffs that CISOs and other security and risk decision-makers face right now:
Digital transformation projects such as cloud migration bring transformation of security posture.
Cybersecurity budgets are under increased pressure and must be optimized for best return in risk reduction.
Risk Treatment Analysis enables quick decision making on risk treatment options, with these four steps:
Assess Baseline Risk, based on Rapid Risk Assessment or more detailed analysis
Examine Treatment Options – See the effect on baseline risk of process changes, policy exceptions, or investments in controls (or removing controls for budget reduction)
Specify Costs of treatment options
Evaluate Analysis Results – Get a report that compares how various options quantifiably change baseline risk and, if costs specified, the return on investment (ROI) of options
Learn more about Risk Treatment Analysis
If you missed us at FAIRCON2020, click here to set up time with an expert and learn more about these latest innovations.
Watch the video now. Fill out the form below