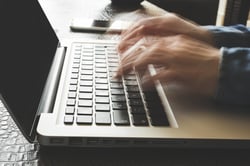 We built the RiskLens Enterprise SaaS platform to automate cyber risk quantification with Factor Analysis of Information Risk (FAIR™). A guided workflow takes you through the steps of creating risk scenarios, filling in the data inputs, running Monte Carlo analysis and reporting out the results in business-friendly formats. But within the platform are some functions you may not know about that streamline and accelerate risk analysis to get you trusted results on tight schedules.
1. Speed up your cyber risk analysis production line with Data Helpers
All the data points you gather from SMEs for risk analyses – credit monitoring cost per customer, probability of a ransomware attack, hourly wages for response teams (even by high/medium/low criticality of the incident) -- can be stored in these handy data repositories to populate any new analysis with one click. The more analyses you do, the less research you do, the faster your whole operation runs. Missing some data? Data Helpers also come stocked with industry data to fill the gaps.
Learn more: Automate Cyber Risk Analysis with RiskLens Data Helpers
2. Portfolio Management aligns cyber risk analysis with how the business views itself
"Speak the language of the business" – that's ultimate value of quantitative cyber risk analysis. The RiskLens Enterprise SaaS platform adds a further value: Display cyber risks from the point of view of any business audience, from the board of directors to business-unit owners. With Portfolios, risk analysis can group risks by…
Enterprise risk by business unit
Enterprise risk by type of cyber event
Type of cyber risk event by business unit
Other views of risk might be by crown jewel asset or revenue streams or the common risk frameworks. Views might be in the aggregate for the enterprise level, with the capability to drill down to uncover the drivers behind the numbers (see the examples below).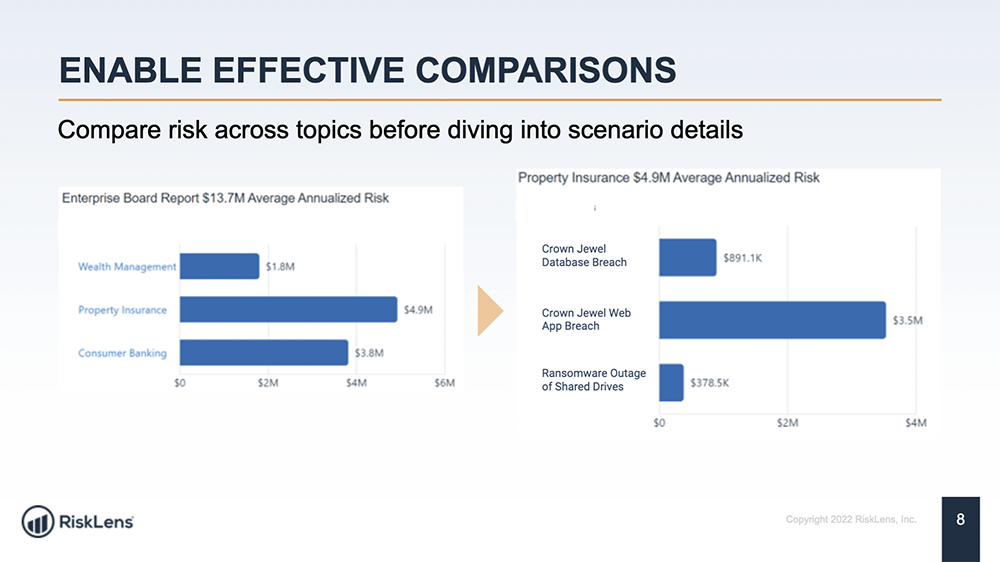 Productivity note: Portfolios build on the same risk scenarios you create for RiskLens cyber risk analysis – you create Topics and tag them to groups of scenarios, then aggregate Topics in one or more Portfolios. As risk scenarios are updated, so are Portfolios.
Watch a webinar: CRQ Use Case Series: Portfolio Management
3. Automated integration with GRCs and other common tools with RiskLens APIs
RiskLens APIs empower fast, automated connections with systems of record so the RiskLens Enterprise SaaS platform can freely ingest the latest data. For instance, you can create assets on the platform from your GRC or CMDB and ingest their updated key metrics – and make rules to automatically create risk scenarios after creation of an asset. APIs also give remote access to data helpers, risk scenarios and risk assessments, and the subscription system for automatic data updates.

RiskLens Adds New APIs and Export Capabilities for More Integration with Risk Registers and Other Reporting Tools
The RiskLens Data Export API – Cybersecurity Risk Reporting in Real Time on Your Dashboard or GRC
Stay up-to-date with the latest insights and blog posts from RiskLens.