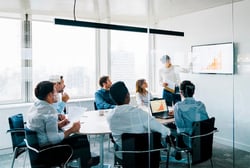 As cybersecurity becomes a regular topic of board-level discussion, CISOs, CROs and other risk and security executives need a better way to translate the highly technical language of cyber risk management into business terms that non-technical members of the board can understand and use to make critical strategic decisions.
Executive Board Reporting, a new service from RiskLens, provides customized, quarterly cyber risk reports in non-technical, business-friendly formats suitable for presentation to the board, executive leadership, and other critical stakeholders. These reports include Top Risk Reports, measurable Risk Appetite Statements, key Cost-Benefit Analyses and more.
All reports are delivered by certified RiskLens cyber risk consultants with decades of experience assessing, communicating, and reporting on cyber risk to enterprise customers – all without the need for in-house cyber risk analysis expertise or resources.
3 Reasons to Build Your Board Communication on the RiskLens Executive Board Reporting Service
The RiskLens Executive Board Reporting Service is superior to other similar reporting services for the following three reasons:
1. Based on an open, trusted, and defensible standard: FAIR™
Board members are answerable to shareholders, customers, and regulators for the performance of the organization in cybersecurity and they in turn demand reporting from executive leadership on cyber risk that is transparent and defensible. "Qualitative" risk reporting based on a security team's guesswork or "black box" solutions from software vendors don't meet the challenge. RiskLens bases its cyber risk analysis work on FAIR (Factor Analysis of Information Risk), the only open and independently-validated standard for cyber risk quantification (CRQ) recognized by the NIST Cybersecurity Framework and other authorities.
2. Aligned with National Association of Corporate Directors and World Economic Forum principles for cyber risk oversight and governance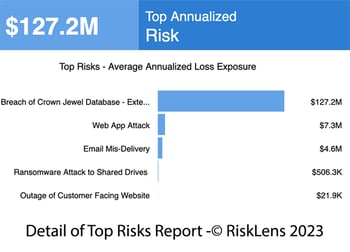 RiskLens anchors its Executive Board Reporting service on the principles of the two most influential documents for board governance of cybersecurity risk, the NACD Director's Handbook on Cyber-Risk Oversight and the WEF Principles for Board Governance of Cyber Risk. Both advise boards to demand reporting on cyber risk in businesslike, non-technical terms. As the WEF says, "instruct management to establish a consistent framework, using industry-accepted risk quantification models, for calculating the potential economic impact and likelihood of cybersecurity scenarios" – essentially an endorsement of the quantitative, scenario-based methods of FAIR. "Board-management discussions about cyber risk should include identification and quantification of financial exposure to cyber risks and which risks to accept, mitigate, or transfer," the NACD Handbook states.
3. Grounded in industry benchmark data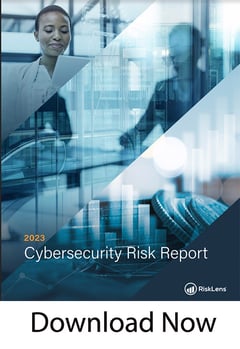 The RiskLens data science team maintains the industry's most comprehensive set of cyber risk benchmark data which fuels the RiskLens cyber risk analytics platform. Our expertise in developing industry-specific benchmark data fully informs the Executive Board Reporting service in delivering clients customized reporting without the need to develop their own risk data or cyber risk quantification capabilities. See RiskLens data science in action: Try our My Cyber Risk Benchmark tool and read the RiskLens Annual Cybersecurity Risk Report.
---
Cyber risk quantification offers the most effective way to create a common language between technical and business decision makers. For more than a decade, RiskLens has served hundreds of organizations of all industries and sizes, and with a range of CRQ priorities and unique reporting needs. Contact us to learn how the Executive Board Reporting service can bring the benefits of CRQ to your organization.
Stay up-to-date with the latest insights and blog posts from RiskLens.