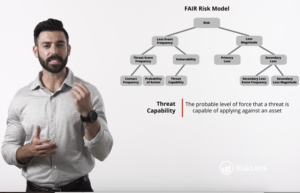 Join the widening movement to bring the FAIR™ standard to government risk management with a new training course from RiskLens, FAIR Analysis Fundamentals for US Government. The RiskLens Academy is the leading trainer of FAIR analysts in the world (1,000 graduates in 2020), and the new course has been fully customized for government learners by RiskLens team members with extensive experience launching cyber risk quantification programs at government agencies and departments. The course is accredited by the Open Group and open to risk managers and other officials from any level of government in the US.
---
Special Introductory Discount Offer - see below
---
What You'll Get from FAIR Training for Government
You'll receive a complete introduction to the FAIR standard and methodology for cyber risk quantification (note: no previous knowledge or higher math skills necessary). You'll learn key measurement concepts and calibrated estimation methods for conducting quantitative risk analysis in your agency or department (with special attention to risks in the public sector) and best practices to communicate analyses to stakeholders. The course includes hands-on work with use cases to ensure that you can turn learning into results.
The FAIR Analysis Fundamentals for US Government course comes in three versions:
Online with video for self-paced learning
Instructor-led (in-person or remotely) for a classroom/coaching experience
Hybrid, giving you the flexibility of self-paced lessons and live office hours with instructor
The Case for Cyber Risk Quantification in Government Risk Management
FAIR practitioners in the federal government in particular are motivated by the many directives and standards pushing for better accountability in cyber risk management, including the new standard from NIST, Integrating Cybersecurity and Enterprise Risk Management (ERM) (NISTIR 8286), recommending risk quantification and the FAIR™ standard specifically for ERM. OMB Circular No. A-123 mandated agencies to establish an ERM capability and a risk profile as part of strategic annual reviews. NIST had previously recommended FAIR in the Cybersecurity Framework (CSF) that builds on NIST SP 800-53, the security controls guidelines for federal agencies to comply with the Federal Information Security Act (FISMA).
"One of our key goals was to put in a quantitative risk management program so we could have stronger conversations with the business" side, Energy Dept. CISO Emery Csulak said at a recent cybersecurity forum hosted by NIST. With FAIR, his organization is now well on the way to "convince leadership that we've got a good story to tell, that our IT and cybersecurity professionals are becoming more professional and are able to engage in the level of conversation that they are expecting" from risk managers at the Department.
Learn more about FAIR Analysis Fundamentals for US Government
---
SPECIAL DISCOUNT OFFER FROM RISKLENS AND THE FAIR INSTITUTE:
Complimentary enrollment in FAIR Analysis Fundamentals for US Government course for anyone who purchased FAIR training in the last 365 days. This offer good for the next 90 days.
Referral discount of 40%, good for the next 30 days.
To take advantage of these offers, contact the FAIR Institute now.
Stay up-to-date with the latest insights and blog posts from RiskLens.